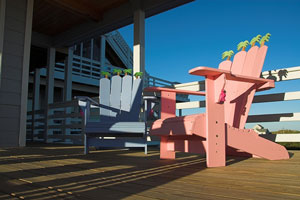 Your deck components will not only provide safety and function for your deck, they can also have a major effect on its appearance.

If your deck is more than 24 inches above the ground, then your local building code may require that it have a railing. But deck railings are not only safety features, they are also key design elements that give your deck personality and charm. The best railings complement the architectural style of your home. A deck railing on a cottage-style home might be made out of maple branches for a rustic look, while a railing on a contemporary home might be made of stainless steel pipe for a striking and sleek look. Ready-to-assemble deck railing kits may include 6-foot or 8-foot rail sections made from a variety of wood and composite materials. Some modern railing systems include specially designed brackets, clips, and templates for quick and easy installation.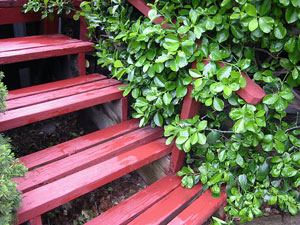 Well-designed stairs are not only functional and safe, but also interesting and inviting. A good stairway will lead traffic away from living spaces and obstacles. Make sure there is a three-foot wide path that leads from the door to the staircase. People should not have to walk around furniture, plants, or grills to get to the stairs. Stairs that change direction need landings, but these landings are great places to put accents like built-in seating and planters that add visual impact to the deck's overall design.
Another deck component is skirting, which is installed under the deck along its perimeter to hide structural systems from view. Built-ins like benches and planters add interest and expression to a deck, while privacy screens block views and establish a sense of enclosure. Overhead structures provide shade and add interesting architectural elements to your deck. An overhead is also a good way to define individual "rooms." Pergolas and arbors are two common types of deck overheads.
---
Copyright © Deck-Ideas.com. All rights reserved.

Deck Components - Railings - Stairs - Skirting